Disc Golf Heaven: Sandy Point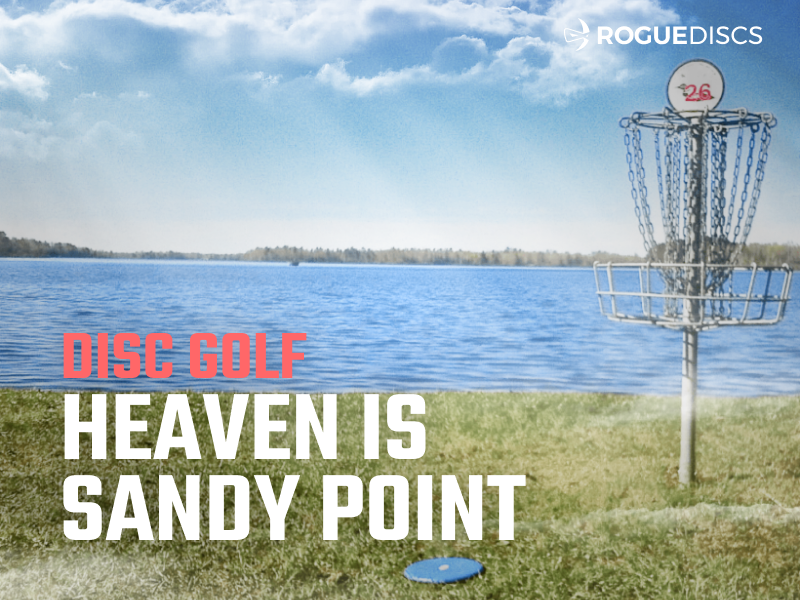 Sandy Point Resort and Disc Golf Ranch were established in 1993 by Mike and Michele Cozzens as the first-ever disc golf resort in the world and the eleventh course in the state of Wisconsin with nine holes. They decided to leave their life in California behind and move to the Northwoods of Wisconsin. According to Michele, "We sold everything and borrowed obscene amounts of money to make our vision a reality." Today, 29 years later, it has 27 holes and hosts one of the biggest tournaments in the state, the Northwoods Open. This year was the 28th annual and the event hosted 236 players, selling out in one minute with 52 players on the waitlist!!
While yes, in the long run they have been successful, Michele paints a picture of what it was like in the early years;
"The physical and emotional toll of building cabins, learning about septic systems, bookkeeping, marketing, and dealing with guests wasn't as fun as designing holes and teaching the sport of disc golf to a world of skeptics."
There is also much more than disc golf happening at Sandy Point. Beyond the lake life, beach, trails, and beautiful scenery, Michele is a multi-talented artist with many irons in the fire. Two noteworthy endeavors are that of a jewelry designer and author. Her jewelry is on display at the Sandy Point Pro Shop and she is an author six times over. What a life!
Wisconsin Hall Of Fame Sandy Point is also host to the Wisconsin Disc Golf Hall Of Fame. Wisconsin disc sports run deep and this is disc golf HEAVEN. If you are lucky enough to be on-site, turn up the dusty stereo in the HOF and take a slow stroll around. Keep your eyes open as you learn about the Cozzens' connection with Steady Ed Headrick, Barry Schultz, and a slew of legendary players to grace the courses of Wisconsin. I have played disc golf in twelve states and this is the only Hall Of Fame I have ever visited. It is a truly special space that puts the history of disc golf in Wisconsin in perspective. Have a listen to Mike talk to Terry Miller (The Disc Golf Guy) on-site about all things Sandy Point.
What's It Like To Be There?
Rolling in on Sandy Point Lane you know you are in a special place. A sign proclaims "Welcome To Disc Golf Heaven" as you drive into the property. The Cozzens' are consummate figures around the property bringing kindness, information, and a sense of home. Even if you didn't play disc golf this place would be a wonderful destination. But we know better, which makes this place an absolute must-visit.
The course, and the majority of the property, is heavily wooded. This sets the stage for a magical walk in the woods. Moss and lichen fill the forest with neon green hues as you make your way
through the first 27 holes. Just when you think it could not get any better you pop out on the final two holes to find a gem of the Northwoods, a lake with a sand beach! Play these last two holes and take a dip in Amber Lake, you earned it. You are also able to rent canoes, kayaks, and pontoon boats to play around on Amber Lake. Be sure to drop a line in the water as the lake is known to be home to a bounty of large fish. Michele speaks of how the clientele has changed through the years;
"In the early days, few guests had heard of disc golf. They came primarily for the fishing, the beach and because their families had taken Summer vacations "Up North" for generations. Our clientele has changed dramatically."
Here is what Michele has to say about how the resort operates today;
"Today UDisc ranks Sandy Point #1 in Wisconsin and #28 in the world. We have 29 holes with two baskets on each course…Several holes have multiple concrete tee pads and we plan to add more, including a resurrection of (Scott) Stokely's original tee on the first hole. We offer seven rental cabins, ranging from the only original log cabin to a sizable vacation home called Lakeview Lodge. Disc golfers reserve weekends in May, June, September and October a year in advance and hold their own tournaments, bachelor parties and weddings."
Needless to say, business is booming Up North.
Going Forward
The Cozzens' are very content with where the resort is at the moment. Their annual B-Tier tournament sells out in one minute and disc golf is booming in the greater universe. More and more disc golfers are flocking to Sandy Point and the Cozzens' appreciate where their lives have led.
"It's been 30 years and now we're just a couple of Senior Grand Masters who fell in love and turned our passion for disc golf into a lifestyle and a successful business. We raised two daughters here, put them through school, and taught them–along with countless others–how to play disc golf. Referencing my 2002 Dream Life memoir, the last sentence reads,'Truly, we have created a dream life,'" said Michele in Discgolfer Magazine.
No matter what brings people to Sandy Point they always leave with fond memories and full hearts. The disc golf is incredible and is only surmounted by the relaxation of the Northwoods cabin life. It is this combination that has allowed Sandy Point to be in operation for 28 years. Head up north to find out why it's said that Sandy Point is "Disc Golf Heaven!"