Holiday Gift Ideas for Disc Golfers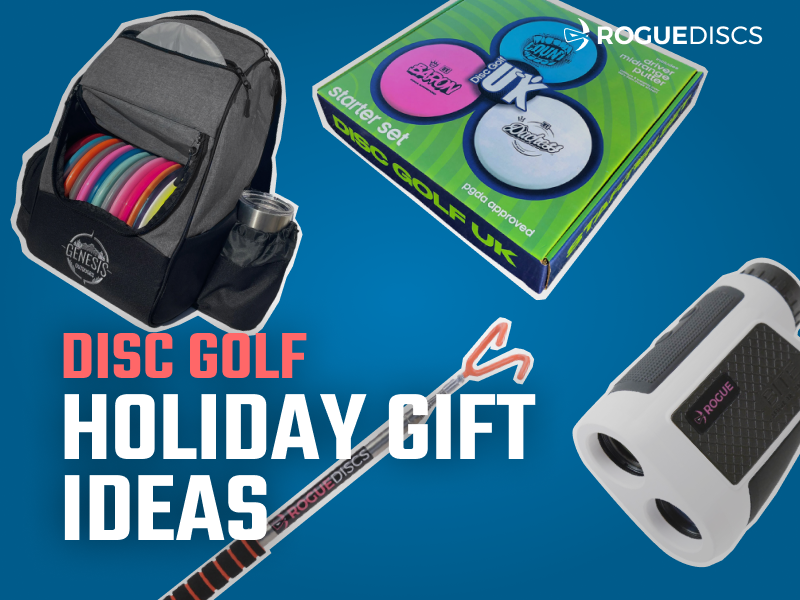 It's that time of year again! Wintertime brings about choices, resolutions, possibilities of travel and the big question; to play or not to play? Depending on where you live that last question can be difficult to answer. However one thing is true, the holiday season is upon us and we could all use some fresh disc golf gear! I have done the dirty work for you and sifted through the options to bring you what the disc golfer in your life wants for the Holidays. I broke down the gifts into two sections; for the course and stocking stuffers. Deck the halls and enjoy!
For The Course
Let's start with the beginners in your life. Maybe you have a friend or family member that you know would love the sport but they simply haven't played yet. Look no further than these starter sets. Rogue offers starter sets from four different brands; Discmania, Kastaplast, Disc Golf UK and Prodigy.
 Rogue RHW-100 Electric Rechargeable Hand Warmer
Have you ever seen quarterbacks slide their hands into a pouch on their waist to warm their hands? They do this to get better grip on the ball. OVer the years technology has accelerated and these pouches are heated electrically. I've personally used this one and it is incredible for the Minnesota winters!
Why not give the gift of one of the greatest selling discs of all time? According to the Rogue website,"Quite possibly the perfect midrange. The Buzzz is a straight flyer with predictable gentle fade at the end of flight. It is a straight flyer when thrown flat and will hold a variety of lines when thrown on different angles." If the Buzzz isn't up your alley then check out all of Rogue's assortment of discs here.
 Dynamic Discs Night Glider LED Catch Frisbee                                                                                Who wants to stop having frisbee fun when the sun goes down?? This disc is 175 grams and flies just like an ultimate frisbee.
 Rogue RRF-100 Disc Golf Rangefinder                                                                                             This rechargeable gem measures in feet, yards and meters and has 6x viewfinder magnification. It has a magnetic mount and gives measurements including linear distance, horizontal distance, height, speed, slope angle, slope distance compensation and nearest and farthest objects.
You know your current bag is beat up and theres things about it you wish were different. Now you can do something about it! Rogue has an assortment of bags from reputable companies such as Prodigy, Discraft, Discmania and many others. Peruse the inventory to find the bag that matches your needs.
Ever throw your disc in the drink? Me too. Luckily for us many companies make disc retrievers in all shapes and sizes. Check the many many retrievers that Rogue has to offer and feel confident throwing over water that you will be able to get your disc back if it lands in the drink.
This is the ultimate assortment of disc golf accessories. This pack contains waterproof socks, rechargeable hand-warmer, digital rangefinder, carabiner key chain, microfiber golf towel and a Rogue-branded mini disc. This is a HUGE discount compared to buying each item individually.
Stocking Stuffers
 Rogue Discs Waterproof Disc Golf Socks
Is there a better stocking stuffer besides socks?! These hardy socks will keep you warm in the elements and are bottom of calf crew length. Feel confident during your wet rounds or whenever your shoes get wet with the knowledge that your feet will stay dry.
Tina Oakley set the industry standard for drying hands when she created Whale Sac. This simple hand dryer ties to your bag and is the perfect way to keep consistent grip on your disc. From the Rogue website,"The sac is filled with clay stone and powder, and helps dry your sweaty hands during a long round of disc golf. The Whale Sac is also great for rainy or humid days when you need to improve your grip."
Winter is coming and why not give the gift of warmth? Try out this soft and comfortable beanie in heather grey and stay warm out there!
 Microfiber Waffle Texture Dsc Golf Towel
I have used this towel for the last year and it is a staple in my bag. It consistently dries off even the wettest disc. It measures 24' x 16' and has a 4' hanging loop. Rogue specifically tested dozens of materials and designs to find the combination that works best for disc golf.
The perfect stocking stuffer for kiddos! From the Rogue website,"The MICROFOIL was developed as a smaller disc that would fit into the older disc golf bags and your back pocket. It is a fun indoor mini that is light enough for small children. 3.75″ in diameter, 23 grams. Fits inside the COZMO to create a container set, and hold "valuables" on the course.
Bringing It All Together
What a wonderful time of year. A time to be with family and reflect on all that we have in our lives. And also what we don't. I hope this list gave you ideas for what you (or a dear one)may need on the course. Set yourself up for success next season by getting yourself the essentials for play. Happy holidays from all of us at Rogue and may your days be filled with cheer and flying discs!