How Disc Golf Events Impact The Local Economy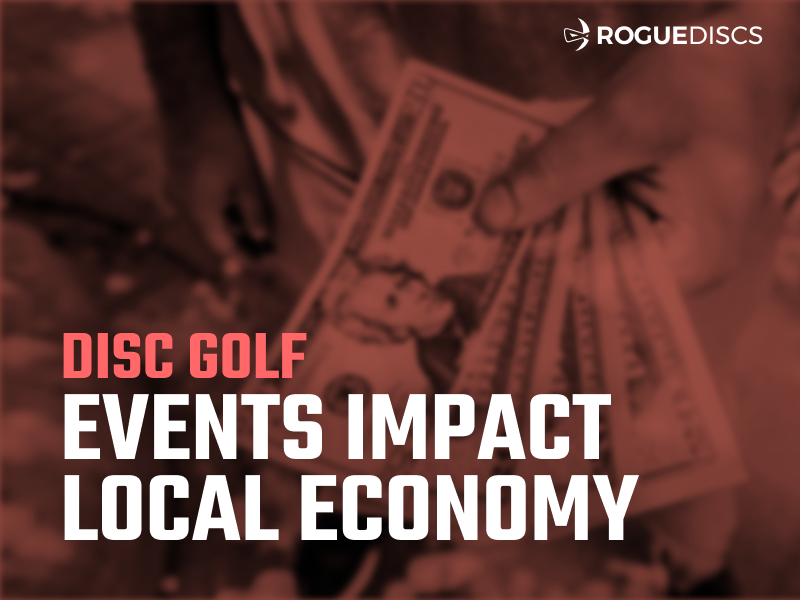 With the recent growth of disc golf I have been interested in the economic impacts on local communities. Players travel to an area for a weekend(sometimes longer) and spend money at various establishments. I figured this has to have an economic impact. But in a world where disc golfers have had a fairly negative stigma along the lines of "Not being able to afford ball golf" and simply being "Hippies in the woods," I wanted to see actual numbers and learn how to grow tournaments from the ground up. For this reason, I researched financial impact numbers from the Ledgestone Open and interviewed a TD and club Co-President aspiring to grow his events. Let's start with the interview.
I interviewed Ryan Dolan of Menominee, WI. By day he is the Printing Manager for the University of Wisconsin-Stout as well as a part-time instructor in the Graphic Communications Program at Stout. In the disc golf realm, Dolan is the Co-President of the Menomonie Area Disc Golf Organization (MADGO). Their club only recently established a board and he has held this title for one year. However, his efforts have been many years in the making. He currently runs a C-Tier (Wakanda Open) and has been laying the foundation for growing sanctioned events.
Forging Relationships
Before a community can have a financial impact from disc golf events it is imperative to establish relationships with local government as well as businesses. One of the most important aspects of connecting disc golf and the greater community is making yourself visible. This means approaching establishments and making connections even if this makes you uncomfortable. This also means attending local city meetings. Disc golf is still unknown to a large mass of people and chances are you will need to explain the sport to local government officials. Dolan had this to say;
"Talk to the folks in charge. Attend City Council meetings and speak up. Introduce yourself to the Parks Directors and Forestry crew. If your club holds scheduled meetings, ask about holding them at a local establishment. It's all about making these connections and growing together instead of a local club or TD trying to do everything alone."
As a result of Dolan's efforts the city of Menomonie has allowed MADGO the freedom to maintain their courses on city land;
"MADGO has drafted and signed an agreement with the City of Menomonie to maintain our local courses that are located within city parks. This agreement has been great in the fact that MADGO can spot and resolve any issues quickly (downed trees, paths, etc…), and we're free to improve courses as we see fit (new tee placements, pin locations, added features, planting trees, etc…)."
This clear communication has opened the door for monetary support as well. "We've also worked with the Menomonie Chamber of Commerce to receive grants to help fund events, and they've expressed interest in continuing to do this in coming years," said Dolan. All of these efforts have laid the foundation for Dolan's event(s) to sustainably grow in the future with the support of the city as well as businesses.
Be Creative
Dolan has been the Tournament Director of many events in his area over the past four years, both sanctioned and unsanctioned. It is through these events that he realized the strength of community and creating healthy relationships with local businesses. One successful venture is creating a card that benefits both players and local businesses. "We've also created annual "DISCount cards" (get it?), where we've partnered with an array of area businesses that provide discounts for anyone who purchases these cards," said Dolan. He went on to say this about the effectiveness of the cards;
"The businesses that we've partnered with have been thrilled with everything MADGO has done. I've heard from several that the MADGO DISCount cards are a hit and customers are using them almost daily! This not only helps the establishments but it's become our club's top fundraiser for each year with around $2,000 coming in from sales of cards."
Other simple and effective ways to help mutually benefit both sides is by simply including establishments in your planning;
"We host our monthly club meetings at Brewery Nonic, as well as have players from various events end (turn cards in) at local establishments to help boost food/drink sales for those places. Any event apparel that is made is done through a local shop (Fleet Feet) in an attempt to keep our spending within the city, and by continuously doing this, this shop has offered us discounts on apparel."
It is these efforts that have laid the foundation for success in both the disc golf and business sectors in Menomonie.
Strength In Numbers
Now let's take a look at an established event in a larger town to see the possibilities of growth in our sport. The Ledgestone Open in Peoria, IL (population 112,000) is one of the premier events on the professional disc golf calendar and takes place every year in early August. TD Nate Heinold is a force in the disc golf world and has built this tournament from the ground up. They have approximately 2,000 disc golfers come to the area over one week where multiple events take place. This becomes a huge boon to the economy as these players spend money in town in a multitude of ways. J.D. Dalfonso, president and CEO of Discover Peoria, said "The event is estimated to bring $2 million in direct economic impact to the area." Disc golf has ARRIVED and is here to stay.
Amy McCoy, Executive Director of the Pekin Area Chamber of Commerce, said the entire business community benefits from the influx of visitors;
"Anytime we can bring in a large crowd, it's a great tax generator. We're super excited to have them in our stores, staying at our hotels, and eating at our restaurants, so we're not only happy to show off our community but enjoy the revenue as well."
When events are run well and relationships with cities and businesses have been established, the economic impact is inevitable.
Bringing It All Together
A wise man once said, "If you build it, they will come." Disc golf is a prime example of this moniker. When events are built from the ground up via strong relationships with local players, local government, and local businesses there is huge potential for success across all fronts. As Dolan exhibits this is done via creativity and a willingness to work with prominent locals to be mutually beneficial. In certain situations, these efforts can materialize massive success such as the Ledgestone Open. Regardless, disc golfers and communities across the globe benefit from events and clubs that are well run. Cheers to our disc golf fearless leaders!