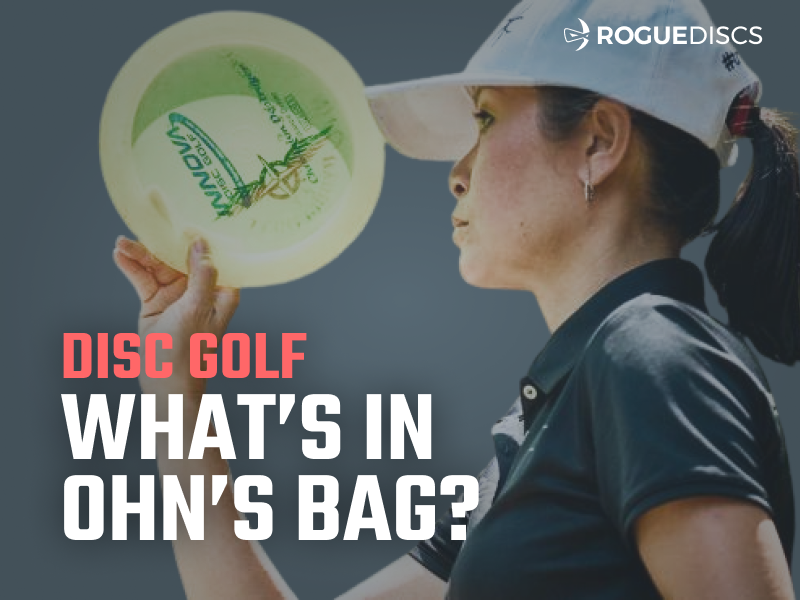 Ohn Scoggins had the best year of her career in 2022. She won over $69K on tour over 36 events. Though she qualifies to play in the age protected FP40 Division(she is the current FP40 World Champion), she earned the bulk of her cash in the FPO Division(over $62K). She currently ranks fifth in the world according to the UDisc World Rankings. Scoggins is based out of Los Angeles, CA and is lucky enough to call Oak Grove her home course. She's been playing since 2010 and had this to say about her home course,"It's the FIRST course in history. It is a very good course. It's a very good course to practice." She is spot on with her analysis as indeed, Oak Grove was the first course ever installed with modern baskets.
Scoggins is known for her bright personality, huge smile and massive putts on the course. She is quick to congratulate a good shot for other players or shrug off a personal mistake. This makes her a crowd favorite. She is dynamic, joyous and infectious on the course. In her own words,"You have to be happy and smiling to make you look young."
Below is a breakdown of discs in Scoggins' bag. Each disc is listed with various information and has a link to its product page on the Rogue website. Information included is the disc name, plastic type, flight numbers, disc description from Rogue or the manufacturer website and an explanation from Scoggins herself in quotes. Much of the information for this blog was gathered from Scoggins' In The Bag video on Youtube. Let's take a look at how Scoggins navigates her way around the course.
Putters
 JK Pro Aviar-X– (JK Pro x3) 2 / 3 / 0 / 2
The Aviar-X JK (Juliana Korver) is a version of the popular Innova Aviar that brings great results. This is a "big bead" putter, meaning there is a bump or bead on the inside rim. This disc comes in soft Pro plastic. The JK Aviar is softer than the Yeti Pro, but more firm than the regular R-Pro Aviar. This putter offers an excellent grip for an accurate controlled flight.
"I bang these all day long!"
Mid-Range
 Roc3– (Star and Champion) 5 / 4 / 0 / 3
The Roc3 is an overstable midrange disc designed for everything from controlled approaches to midrange drives. It performs well in any conditions, including slicing through winds, making it versatile to each player on the course.
"I like to throw this one for the straight upshots."
 Mako3– (Champion) 5 / 5 / 0 / 0
The Mako3 is the newest version of the remarkably straight flying Innova Mako. This midrange disc is the perfect solution for anyone who wants a straight flyer with very limited fade. The
Mako3 is available in the new Jolly Launcher Champion plastic, and is slightly faster than the original Mako.
Fairway Drivers
 Leopard3 Tour Series– (Halo x2) 7 / 5 / -2 / 1
The Innova Leopard3 is the faster less glidey version of the popular Innova Leopard. this disc has a nice controllable turn right out of the box. With a smooth throw the Leopard 3 will fly lazer straight. With power this disc will turn hard and finish right (with a right hand backhand throw).
"My Tour Series disc..You guys want a birdie?!?!"
 Roadrunner– (Star) 9 / 5 / -4 / 1
The Roadrunner is a long-distance driver with tons of glide. It's ideal for new players to gain extra distance on long, straight shots. For more advanced players with more arm speed, it is great for long turnover shots and rollers.
Distance Drivers
 Destroyer– (Star x5) 12 / 5 / -1 / 3
Possibly the most popular distance driver amongst experienced players, the Destroyer is a high speed overstable distance driver. This disc is Ricky Wysocki's go to driver. It was the first 12 speed driver. The Destroyer is great in head winds and has a predictable hard fade at the end of its flight. It is extremely torque resistant so big arms will love this disc. Great for experienced players.
"This one I can throw if windy or not windy. I can trust it all day long."
 Tern– (Halo) 12 / 6 / -3 / 2
The Tern is a high speed understable distance driver. It is a great disc for beginners and intermediate players to gain max distance. Advanced players will find this disc useful for long anhyzers. Not a disc to throw into headwinds. This is for players with slower arm speeds looking for max distance or for advanced players looking for a hyper flip. Huge glide carries the Tern a long ways.
"The Tern is going to hold the line way long and then eventually it's going to come back a little bit. This is my go to for anhyzer."
 Shryke– (Champion) 13 / 6 / -2 / 2
The Shryke is a long range distance drive that is easy to throw. It has exceptional glide and a predictable gentle fade at the end of its flight. The Shryke also has mild low speed fade, making it ideal for beginners. It is less stable than a Destroyer and more stable than a Tern, filling a gap with huge distance potential in calm wind conditions.
"Sidearm. I throw it on anhyzer and it's going to come back all the time."
 Colossus– (Champion) 14 / 5 / -1 / 3
The Colossus is the first Innova driver in the speed 14 category. This ultra fast distance driver has potential to provide even more distance for those with big arms, but is understable enough that it can be handled by the masses.
"It always comes back…If you guys have never tried the Colossus you should try it!"