Who Are These Kids? The Next Generation Of MPO Disc Golfers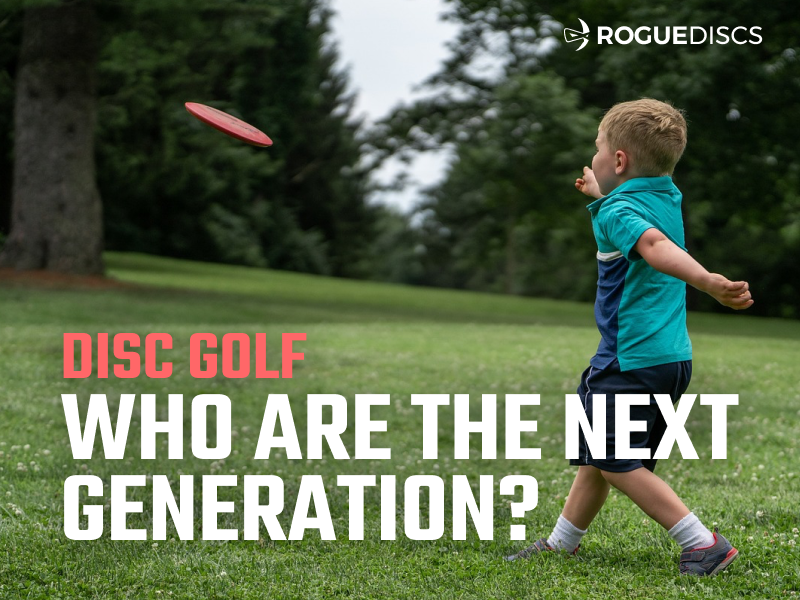 Kids these days. They're so darn good! Many factors have led to a changing of the guard in disc golf. While Ricky, Paul and other usual suspects may still be at the top, there is a new crop of youngsters nipping at their heels. The sport has never seen this much young talent and it had me asking the question, why now? For me, it boils down to three reasons;
Introduction of disc golf to youth
Instruction(both with an instructor and personal instruction via online resources)
Media Coverage
As a direct result of these factors kids have begun treating disc golf as a "real" sport. This is a monumental shift in approach. For generations disc golf has been seen as a fun activity for kids but not necessarily as a sport to specifically train for. Now, with a fair bit of help from an influx of money to the sport, kids are training specifically for disc golf and we are witnessing these efforts come to fruition in the professional game. Let's start by seeing how kids are introduced to our sport.
Teach The Youth!
What we are witnessing is the culmination of the efforts of many people to introduce our sport to youth. Through programs such as Educational Disc Golf Experience(EDGE) and Universal Play
 Disc Golf(UPlay), youth across our nation(and the world) have been introduced to disc golf. EDGE was founded in 2002 by a group of dedicated disc golfers and, according to their website, has introduced the sport to over 2 million kids! UPlay was founded by Zoe Andyke in 2017 and has reached over 15,000 kids ages 4-18. This is no small feat.
It all starts in childhood. Seeds have been planted and we are witnessing their growth. Let's say only 1% of those 2 million youth go on to play with any regularity. That gives us 20,000 kids who are learning muscle memory at a very young age. This alone gives them a HUGE advantage over players adopting the sport later in life. This is also the first generation of youth growing up with mobile technology. Information is shared quick and easy and there simply hasn't been this type of disc golf media in previous years.
Youngsters are able to perouse YouTube and dedicated disc golf sites to learn proper mechanics. They are able to sift through courses on UDisc to find the ones that are fitting to their skill level. Heck, they are even able to find disc golf coaches online and get virtual training if their parents are up for it! Here are a few links for online instruction for yourself as well;
There are also plenty of knowledgeable locals across the country(and world) that offer in-person instruction. Kids get instruction one of two ways. First, They want instruction and have their parents find a local or virtual instructor. Or second, they are found out by a local who
encourages them to get instruction and start to play leagues. Both of these situations have the same result, better players.
And beyond this, players are simply teaching themselves from a plethora of technique videos on YouTube. Instead of simply grabbing whatever discs they have and rmabling around their home course, youngsters are able to research specific discs, courses and technique to make a combination that suits their game. Extrapolate this out over many years and we are seeing how players have both used instruction and instructed themselves to become better players.
Media Coverage
When I was growing up in the 80's and 90's one was lucky to see flying discs on tv or VHS. Internet you ask, maybe in a few years! There was some coverage making its way around but it was in no way informative for technique unless you simply studied each player's form. Fast forward to our current situation. Kids nowadays have endless disc golf material via multiple platforms. JoMez changed the game on the media side of the sport by providing top quality next day coverage for free on YouTube. Others such as Central Coast, Gatekeeper, The Disc Golf Guy, GK Pro and countless others have pushed the sport into new arenas for coverage. Series' such as skins matches, course previews and practice rounds have allowed players to let their hair down and show us their casual selves. Seth Munsey at Disc Golf Strong has given specific disc golf training a true platform. The combination of this madia has given a legitamcy to our sport for the greater public for the first time in its history.
All of this has led to kids respecting our sport. What's even more important is that their parents are able to respect the sport as well. High-quality media has led to parents taking the sport seriously. Maybe they will allow little Timmy to play that extra round or maybe even purchase a basket to put out back for practice putting. It's amazing what a well produced video can do for the publics perception. And in the off chance that your kid is really good, we now have financial credibility with some of the contracts our top professionals have been inking these last few years. Just let Mom know that Paul McBeth signed a 10-year $10 million dollar base contract with his manufacturer and see if she'll let you throw a few more shots out there!
Gannon Buhr, For Starters
 Gannon Buhr was a KID on fire in 2022. Out of 26 events Buhr had 21 Top-10 finishes, 9 podiums and three wins. One of those wins was the biggest of his career at the United States Disc Golf Championship(USDGC). This was his first ever win at a Major and put the cherry on top of an incredible year which saw him almost take down the early season Las Vegas Challenge way back in February. Along the way he also won the Santa Cruz Masters Cup(DGPT Silver Series) and the Clash At the Canyons(Prestigious A Tier). And folks, this kid is 17 years old.
Buhr has set many benchmarks in our sport. In 2017, he won the PDGA world Junior III Boys championship by an astounding 30 STROKES. Two years later, he won the Junior 15U Boys world title by 26 STROKES. He was the youngest player to be 1000 rated(14 years old) as well as the youngest ever winner of the USDGC. After turning pro in 2021 he was honored as the PDGA Rookie Of The Year. This kid is here to stay.
Other notable MPO players who are all under 25;
 Linus Carlsson– 23 years old- 1026 rated- Boras, Sweden
 Timo Hartmann– 18 years old- 1020 rated- Hamm, Germany
 Niklas Anttila– 21 years old- 1029 rated- Kuopio, Finland
 Anthony Barela– 22 years old- 1035 rated- Mesa, AZ
 Isaac Robinson– 21 years old- 1033 rated- Lawrenceville, GA- 2022 PDGA Rookie Of The Year
 Cole Redalen– 17 years old- 1026 rated- Hillsboro, OR
And let's not sleep on two Discmaniacs who are already household names;
 Kyle Klein– 20 years old- 1039 rated- Wyoming, MI
 Eagle Mcmahon– 24 years old- 1043 rated- Boulder, CO
Bringing It All Together
The next generation of disc golfers are here, and they're really good. The parody on the MPO side of the sport is great for the game. We all love the Ricky vs Paul battles but we don't need them every week. These kids are here to stay and they are bringing our sport to new heights. Heck, disc golf now even has a contract with ESPN to broadcast multiple events. The reasons for this infusion of youth are introduction of disc golf to youth, instruction(Both by instructors and via personal instruction via online resources and media coverage. We are in a golden age of disc golf and the infusion of youth has led to parity that is great for the sport. Keep an eye on these kids!