2023 World Course Profiles: Brewster Ridge And Fox Run Meadows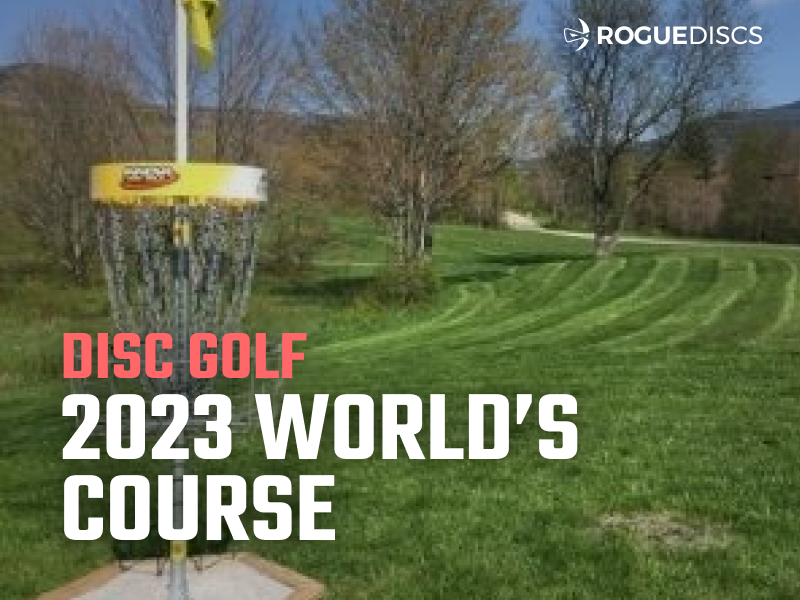 You may know Fox Run Meadows(FRM) and Brewster Ridge(BR) as the hosts of the Green Mountain Championships(GMC), an Elite Series event on the DGPT circuit. You may know these courses as the host of the 2018 PDGA World Championships(Gregg Barsby took down the title in legendary fashion!). Or you may know them as the summertime accoutrement to a ski resort at Smugglers' Notch Resort("Smuggs," as the locals say). But what you may not know is that they are hosting the 2023 World Championships as well. The world will be watching Aug 30
– Sep 3.
These two courses are world class and rank #14 and #6 in the world respectively. What's even better is that you can show up to Smuggs outside of Jeffersonville, VT and play these courses for the cool cost of $12. This place is a disc golf destination that should be on your course bucket list. I was fortunate enough to play these courses in the Autumn of 2022 during peak foliage colors and I HIGHLY recommend visiting during this time, but anytime will do. Find lodging in nearby Jeffersonville for a more cost effective option and enjoy the many trails that abound in the area. Let's take a step back and learn the history of these two tracks.
History
Now introducing Jeff Spring(PDGA #43994), the current CEO of the Disc Golf Professional Tour(DGPT). Prior to this position Spring worked at Smuggs from 2010-2019 starting as a ski instructor and earning his way to Operations Director. According to his Linkedin page, his final position was described as follows,"Operations Director of the Ski & Ride School in the Winter, and Director of Mountain Biking, Disc Golf and Events in the Summer & Fall." It seems he committed to disc golf.
In 2011 there was discussion about what to do with the Smuggs property. Spring spoke up to the owner and said "One thing you should do is upgrade your disc golf course." He went on to say this of the course development;
"Our owner didn't know much about the sport, and I'd heard it through the grapevine that he was interested in learning more about disc golf. So at a company party at the end of the winter 2012, I went over to him and started talking to him. He mentioned Alan was interested in upgrading the course, and I let him know I was on the board of the state's disc golf club and had been part of designing courses before. He said, 'Let's get it going.' And in the spring, we did."
The intention was to design a world-class course. He brought on Steve Brinster, legendary disc golfer and owner of Brinster Design, to help with the blueprint. BR was opened to the public in Summer of 2013 with FRM to follow in 2014, expanding to 18 holes in 2017. They have been host to countless events and have a hospitality that is second to none. Through the years the resort has improved many aspects of the disc golf experience. These aspects include a pro shop, benches on every hole, resort amenities including restaurants, lodging, country store and general resort activities. Needless to say, There is plenty of fun to be had at Smuggs! Let's take a look at the courses.
BR is the perfect compliment to FRM as it is a classic New England woods course. Beautiful rock walls frame many of the incredibly demanding fairways. From the Smuggs website,"Opened in summer 2013, Brewster Ridge is Smuggs traditional wooded disc golf course. With four tee boxes per hole, players may choose their own difficulty level, ranging from beginner to pro. Featuring tunneled fairways, challenging yet fair rock wall boundary lines, and a beautiful Vermont wooded landscape, Brewster Ridge is a perfect choice for all ages and abilities!"
The course is 18 holes and is a par 61. The gold layout, which is played at the GMC, has a length of 7,997 feet. BR utilizes Chainstar Pro targets and the course is cart friendly. It was established in 2013 as the first course at Smugglers' Notch.
Check out Gatekeeper Media's coverage of the 2022 GMC at BR.
This course is the longer of the two and is lined with OB. LOTS of OB. Beautiful views of the Green Mountains abound as this course has many open bomber shots but placement is paramount to approach difficult pin locations. Their UDisc page says this about the course,"A variety of open, long-distance and shorter technical placement holes with lots of OB to contend with. Beautiful mountain views, and a well-stocked pro shop."
The Smuggs website has this to say about the course;
"Built as a 9-hole addition to Brewster Ridge in 2014, Fox Run Meadows was expanded to 18 holes in 2017 for the Green Mountain Championship, sponsored by Discraft.
Featuring open, grassy fairways, and boundary markers surrounding each hole, Fox Run provides lots of room to really let those discs fly! Multiple tee boxes allow players to choose their difficulty, and stunning views of the local mountain range provide the perfect backdrop to an amazing and challenging course."
This course is 18 holes and is a par 63. The gold layout, which is played at the GMC, has a length of 9,426 feet. FRM utilizes Mach VII targets and is extremely cart friendly.
Check out coverage of the 2021 GMC(2022 final round was rainy) to see FRM up close and personal!
World's 2023
As mentioned before, The 2023 PDGA World Championships will take place at Smugglers' Notch on Aug 30-Sep 3, 2023. The world's best players will be in attendance and the World Title is on the line. Preparations for the tournament are well underway and Tournament Director Jeff Spring had this to say about the event;
"Being awarded the PDGA Pro Worlds in and of itself is an incredible honor, but to serve as Tournament Director for the second time at the 2023 Championship is particularly
special. It affirms the incredible stewardship the team at Smugglers' has dedicated to the Disc Golf Center after my departure in 2019. We loved hosting 2018 Pro Worlds and learned so much. With that experience, and the subsequent growth of the sport, we hope to reach new heights for professional Disc Golf through the 2023 edition."
Bringing It All Together
These two courses at Smugglers' Notch Resort have it all. They are nestled in some of the most beautiful scenery in the country as well as having amenities that are second to none. History is also pervasive being the annual host of the DGPT Elite Series GMC and the 2018 PDGA World Championships. Rest assured that the 2023 World Championships are in good hands. Nick Hover took over as the Operations Director at Smuggs when Spring departed. He had this to say about his place in the resort,"We've seen an explosion in the popularity of disc golf over the past two years, and it's for the pure love and bright future for the sport that keeps the entire Smugglers' Notch Disc Golf Center team working hard. I would also like to take this opportunity to say cheers to all of our members, volunteers, and visitors for their support over the past 10 years. Here's to another amazing 10 years." Cheers to the beautiful growth of Smuggs.