In The Bag- Simon Lizotte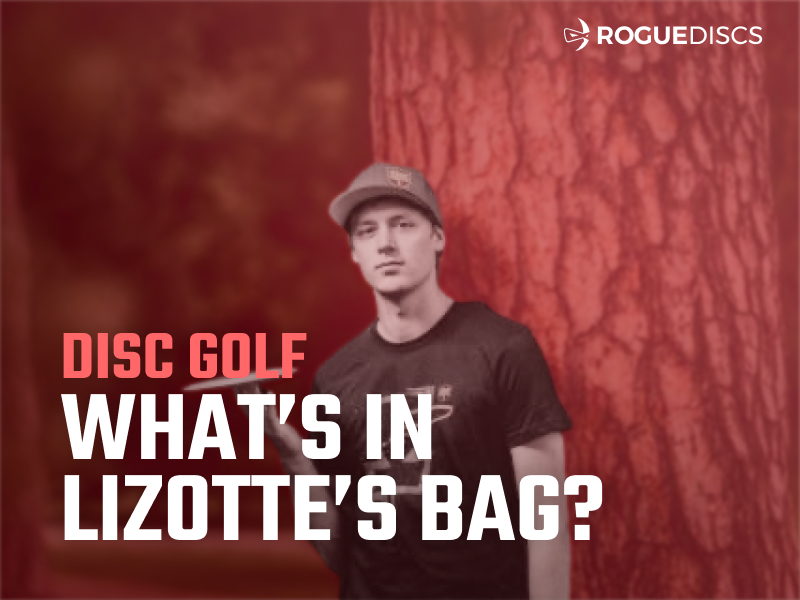 Simon Lizotte is a showman at heart. He has arguably the most popular YouTube Channel amongst professionals due to his theatrics. Just think, when we throw a crazy line it is referred to as a "Simon Line." He has carved his niche and is known more for his showmanship than for his wins on tour. Then came 2022. Lizotte won four DGPT Elite Series events this year and has trouble pin-pointing why. Amongst many of us armchair touring pro's, ideas are circulating. For me, one of these possibilities is especially prominent. Lizotte had a child.
Emmett Peter Lizotte(PDGA# 201871…yeah, he already has a PDGA number) was born in early February, 2022. Lizotte took a month off tour to be a Father with his new bride(married in September, '22). When he came back on tour something was noticeably different; Simon was throwing straightforward lines. What happened to the Simon Lines?? All I'm saying is that Lizotte has decelerated on being the showman and is letting his disc golf skillset shine through. He has always had the talent, now we are seeing it come to fruition. Is it because he has plenty of Love at home and doesn't need the adoration of the fans? Nobody knows. But the truth is that Simon is winning at a rate unprecedented in his career directly after having a child.
Below is a breakdown of discs in Lizotte's bag. Each disc is listed with various information and has a link to its product page on the Rogue website. Information included is the disc name, plastic type, flight numbers, disc description from Rogue or the manufacturer website and an explanation from Lizotte himself in quotes. Much of the information for this blog was gathered from Lizotte's In The Bag video on Youtube.
Putters
P2– (x3 D-Line, x1 C-Line) 2 / 3 / 0 / 1
This putter is great for putting and throwing off the tee, flipping up to flat with a reliable fade. The P2 flies more to its original numbers of 2-3-0-2. Slightly deep in the rim, but you have to buy it to try it. It will shave strokes off your game in no time.
"Putting is a mental game and I'm back to the basics, D-Line P2's."
P1x– (D-Line) 2 / 3 / 0 / 0
The P1x is the P1 evolved. The unique wing shape of the P1x gives it a smooth flight and an exceptional fit in the hand. The bottom of the rim is convex and it also has a medium sized bead. This makes it fit like a glove for both putting and throwing grips, while also keeping the flight pattern very straight across a wide range of speeds.
"I love throwing it on a slight hyzer to flip up and it'll just glide forever and turning right."
Mid-Range
Mutant– (Neo) 5 / 3 / 0 / 4
The Discmania Mutant is an extremely overstable midrange. It features low glide and a hard fade. Providing consistency in most windy conditions. This is a utility disc that can help you get out of those sketchy situations and back on track.
"I almost want to call it the Tilt of mid-ranges…This is as predictable and reliable as a mid-range will get."
Midnight Prowl Origin- (Meta) 5 / 5 / -1 / 1
The Origin is a smaller diameter midrange with big potential. It's perfect for long turnover shots and precise, laser straight lines when thrown with control. It will thrive in tailwinds, tight fairways, and calmer conditions on the course.
"I throw this all the time on a super hyzer flip up to flat and it just rides."
Method– (Lux) 5 / 5 / 0 / 3
The Method is an overstable midrange that excels in its glide. It won't cut down distance with its high-speed stability and can handle immense torque without turning over to help you shape your shots.
"I love how it feels and they're very overstable and predictable."
MD1– (C-Line) 5 / 6 / 0 / 0
The MD1's flight is very glidey and straight, and the beadless design feels comfortable in your hand. The MD1 comes in our Italian blend C-line plastic, making it feel stiff and grippy.
"This is a total point and shoot…Super true and super reliable. Maybe it will be my next signature disc, who knows?!"
Fairway Drivers
Splice– (Neo) 9 / 3 / 0 / 4
The Splice is a very overstable fairway driver. This disc can be trusted in most situations to fly straight and fade hard. It fits a large variety of grips and can be trusted to fly consistent regardless of the strongest headwinds. An excellent choice for shots when you need stability and consistency.
"Pretty much the little brother to the Tilt."
Genius– (Active Base) 7 / 5 / -4 / 1
The Genius is an understable fairway driver developed for beginners, but can be used by more advanced players looking to do more with a disc. It's able to fill a variety of shots, like carving turns or navigating tight lines.
"Get you out of trouble disc."
FD3– (Doom Bird 2, Signature Swirly S-Line) 9 / 4 / 0 / 3
The FD3 offers an overstable flight pattern. This disc can be used for everything from touch sidearms that get you out of trouble to full power drives off the tee. You can rely on the FD3's long but powerful and forward-penetrating fade.
"This is the disc for the wind. This is the disc for power players."
FD– (x2, C-Line/S-Line) 7 / 6 / 0 / 1
The FD is a fairway driver with huge glide and a predictable fade at the end of its flight. This is a great disc for slicing fairways with precision and finding the ideal landing zone. The FD has lower speed but makes up with a high glide rating. This disc is great for all skill levels.
"It's pretty straight, slightly understable. I have a lot of confidence in this disc."
Distance Drivers
PD2– (x2, C-Line/Luster C-Line) 12 / 4 / 0 / 4
The PD2 is an overstable high speed driver that is highly torque resistant. This disc has made Simon Lizotte famous! A bomber of a disc that is torque resistant and has dependable fade at the end of its flight. This disc brings comfort to both backhand and forehand drives. Great for higher arm speeds to throw flex shots. The PD2 is an advanced disc.
"I can throw this as hard as I want pretty much into any wind and it'll reliably give me the right to left finish."
PD– (C-Line) 10 / 4 / 0 / 3
The PD offers power and control in the same disc. The PD is somewhat overstable for most players to begin with, but becomes very versatile in various stages of wear. Many players carry multiple PD's in their bags to cover various different types of shots.
"Straight to overstable and the plastic just feels as money as you can get it."
DD3– (x3, C-Line/S-Line/Swirly S-Line) 12 / 5 / -1 / 3
The DD3 is a stable to overstable distance driver featuring enough stability to handle pro level power without turning over. Just ask Eagle McMahon who is known to crush this disc down the fairway, getting it up to speed and giving it enough glide for a full flight.
"Crusher."