Pursuit Of A Dream: Eli Swansen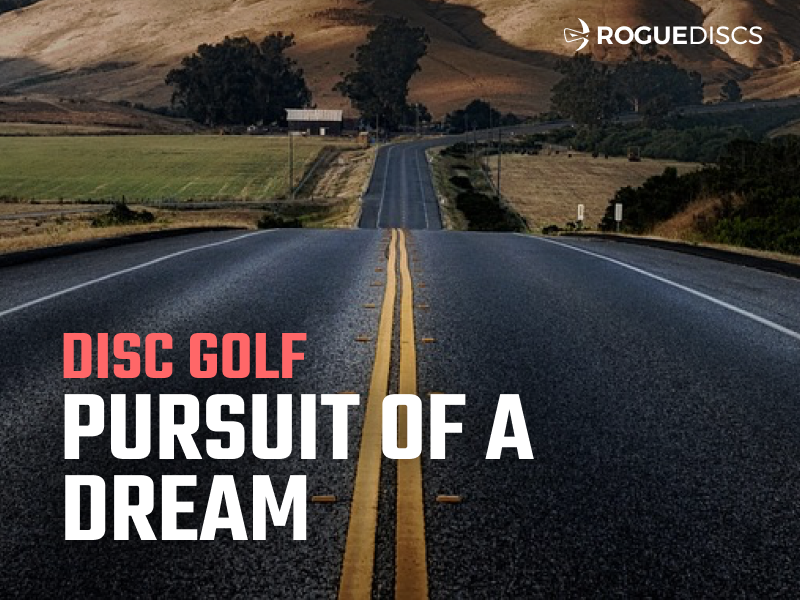 Have you ever wanted to drop everything, hop in a van and go on disc golf tour? Welcome to the club. Today we are going to learn about someone who is doing just that. Eli Swansen(PDGA# 128050) is based out of Pittsville, WI and is following his dreams. Swansen has been playing since 2014 and started playing PDGA sanctioned events in 2020. He learned quickly. Swansen is currently 993 rated but has no major sponsors. He has not let this damper his adventurous spirit as the Summer of 2022 was his first year venturing outside the Midwest on tour.
" In 2020 I solely played in Wisconsin/Minnesota. From there I took a step up in 2021 and toured in the Midwest (still mostly Wisconsin/Minnesota) and played two Pro Tour events (The Preserve and Ledgestone). Then in 2022 I hit the road playing 27 tournaments total and 10 Elite Series events all over the U.S.," said Swansen.
Let Swansen's story inspire you to pursue whatever it is that calls you. No matter what barricades lay in front you, all is possible. Let's meet Mr. Swansen.
Why Tour?
Sometimes life energies align and it is simply time to do what needs to be done. Sometimes this involves a van and your passion. For Swansen, the timing was right;
"My decision to tour was based mostly on my imagination and dreams…I've always had a competitive spirit. I aspired to be like the pro athletes I heard about and watched. On a more grounded level, I guess I could say seeing my close friend Joey Temali tour in 2021 gave me the ambition to hit the road in 2022."
Sometimes it takes inspiration from others to pursue your own dreams. No matter your skill level I highly recommend putting together a regional tour over a few weekends. This will allow you to play new courses, meet like-minded people and have an unimaginable disc golf adventure.
What Type Of Rig?
This is where I really respect Swansen. He made due with what he had. Many people find excuses to avert their passions whereas Swansen made it happen with a 2012 Toyota Sienna Minivan;
"I have been touring in my 2012 Toyota Sienna minivan. I have a foldable mattress set up on a platform in the back. There is storage under the bed with a pull-out shelf in the middle of the van to hold the bed in sleeping position. I have a small kitchen cabinet to the side door. I have some bins stored under the bed for clothes and food. All in all it's a good setup, but I hope to streamline it even further to maximize my space for future travels."
Touring this way demands an adventurous, passionate and adaptive spirit. All of this lends itself to the professional tour life as well as a more localized tour at all levels. Get out there and meet the people!!
Struggles?
I asked Swansen about the grind and challenge of tour life. He was honest and admitted that yes, "Road life is pretty grinding." He went on to say this;
"I think the hardest part for me in the early stages of touring has been staying consistent on the course. It's tough to bring the same level of focus every day and every week. I often fall below my own standard of play. I think transitioning to a lot of Pro Tour events where each shot demands ultra focus has made it difficult to compete at the same level I'm used to. I think more breaks between events and more consistency in my routines in and out of the game will help to transition my game forward to a better place."
To deal with the grinding nature of life on the road Swansen has a network of support that keep him going when times get tough,"My friends and family are always there to just talk things out with me and take my mind off of disc golf. Big shoutout to my mom here who I have talked to nearly every day on the road."
He also has personal practices that allow him to stay grounded and centered while traveling the country playing disc golf. We all have different practices and routines that make us tick. When on the road it is especially important to be steadfast in our routines.
"I'd say running is something that has been key to my successes. It helps to make me feel more centered going into the day. I have also tried to post quite a bit of content on the road, so editing videos has been something in disc golf that is sort of unrelated to my play on the course and more focused on the aesthetic," said Swansen.
How Do You Spend Your Free Time?
We all know that touring pros play tournaments over the weekend. But how do they spend their free time between tournament destinations? I posed this question to Swansen and his answer was multifaceted. "Finding little hiking and swimming spots is one of my favorite things on tour. I have also enjoyed a lot of time with friends this season. We will play local short courses not involved with the tournaments…I have gotten on the pickle ball train that is happening on the pro tour.," said Swansen. It's so important to find balance on the road. Too much of anything can lead to burnout and Swansen admits that "More breaks between events" would help his game.
Extended breaks between competitions can lead to more inner settledness and connection with oneself and others. Finding a balanced way to spend free time is dynamic and can be best utilized by a multitude of outlets. Swansen said this about finding variety on the road,"The tour life and its variety is what makes it special…I enjoy finding that variety each and every chance I get."
What Have You Learned?
When pursuing your dreams hiccups are inevitable. They come in many forms and it is how we react to these hiccups that shapes who we are and how our life will unfold. When asked about what he has learned as a result of life on the road, Swansen had this to say;
"Touring has taught me that I need to be patient. Oftentimes, life moves so quickly and feels so important in the moment that you need to take time to slow down. My biggest take away from this year is to be patient and focused whether in travel, disc golf, making videos or anything else."
Swansen is planning to train hard this off-season for an even more successful 2023 tour. He has learned valuable lessons and will implement patience on the road. What a lesson! He has plans to build out his van with various tweaks for better performance. May he be an inspiration to us all to pursue what calls us. Good luck next season Eli!